A Low Carb Day With Outer Aisle
Posted on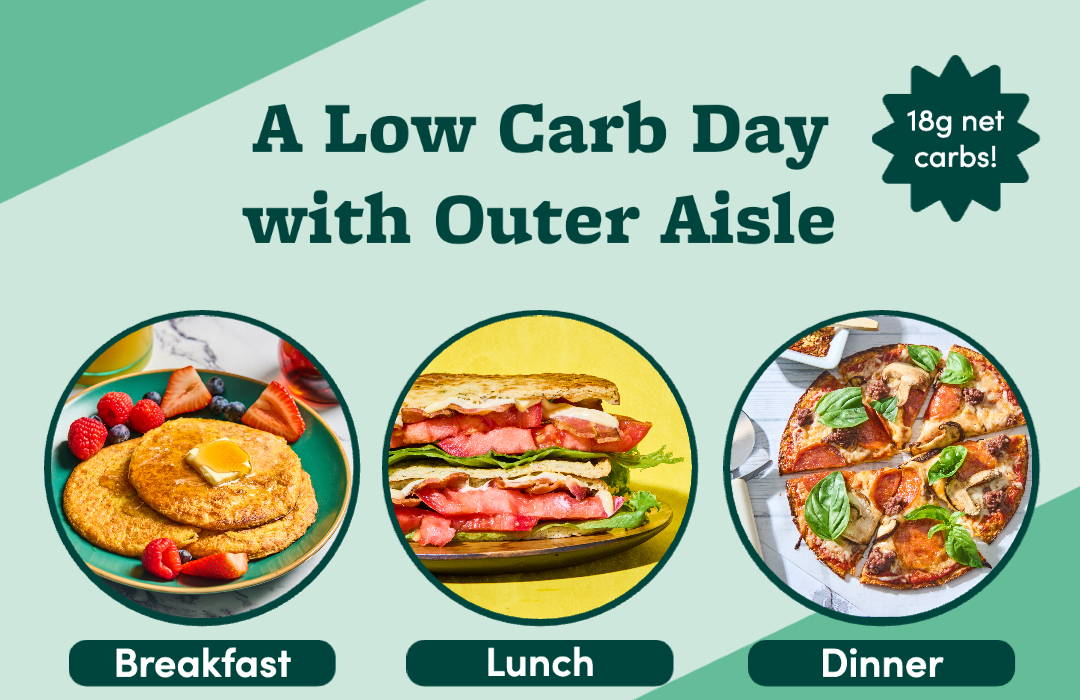 Crush all of your low carb goals with these quick & easy meals that will help you stay in ketosis! This list is one of many possible variations of 3 delicious main meals and a nutrient-packed afternoon snack using Outer Aisle. We also love munching on almonds, cheese with prosciutto, and cucumber & celery with tzatziki dip in between meals. Tip: prep the bacon the night before to save time later on!
It's important to consult with your doctor or dietitian before changing your diet, as everyone's daily recommended calories and macros can vary.
Breakfast: Start your day off with this Keto Friendly French Toast - it's ready in less than 10 minutes and packs in not only veggie power from the Sandwich Rounds, but also vitamins and minerals from the berries.
Tip: For extra protein, add a fried egg or a side of the crispy bacon that you made the night before - but remember to leave some for lunch!
Lunch: This juicy Heirloom Tomato BLT is the perfect lunch for a busy weekday as it's fast to assemble and packed with veggie & protein power to keep you energized for hours.
Snack: Afternoon snack time calls for a simple avocado toast! While you toast a Sandwich Round, take half of an avocado and cut into thin slices. When the Sandwich Round is toasted, spread the avocado and top with crushed black pepper and flaky salt. If you're feeling a little extra hungry, this Double Decker Avocado Toast will help keep you full until dinner.
Dinner: While you can't go wrong with any of our pizza recipes, we especially love this Pepperoni, Sausage, and Mushroom Pizza. It's easy to make and is bursting with flavor - heat from the pepperoni & sausage, umami from the mushrooms, and sweetness from the fresh basil.
There you have it - a full day of low carb, keto friendly meals using Outer Aisle to help you crush your goals!
Article tags:
0 comments