Five-Day Low-Carb Meal Plan
Posted on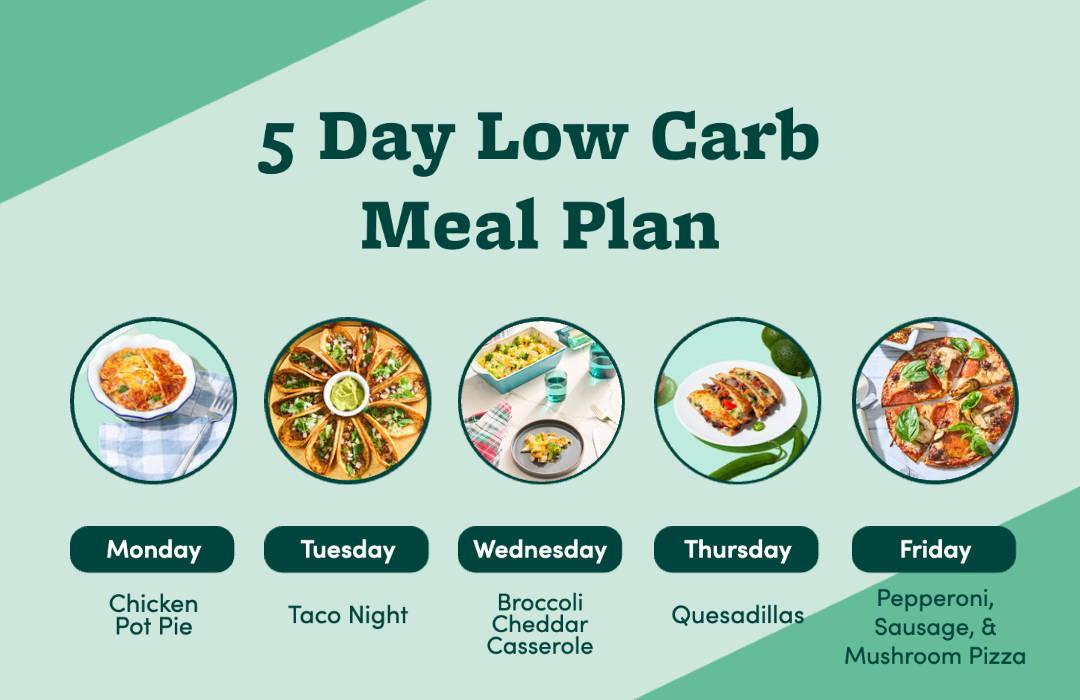 We're helping un-busy your busy week with a straightforward, low-carb meal plan that'll keep you full, on track, and add a little more free time to that schedule! From our super cozy Low Carb Chicken Pot Pie that's perfect for a rainy Monday to Friday night Low Carb Pepperoni, Sausage & Mushroom Pizza—each of these five meals has easy-to-follow instructions, tastes delicious, and is fun to make!

Monday
Low Carb Chicken Pot Pie is the perfect comfort meal to enjoy cozied up on the couch with that true crime doc you've been meaning to watch.

Tuesday
Are we too obvious? Taco Tuesday it is with Outer Aisle's Keto-Friendly Tacos. Fun, easy, and open to your interpretation—add chicken, black beans, fish, or steak!

Wednesday
Admit it—you miss mom's famous Wednesday casserole every now and then. Our Keto Cheddar Broccoli Chicken Casserole takes you back to those home-cooked meals while keeping it low-carb and Keto compliant.

Thursday
This quick and easy Carbslayer Keto Quesadilla is not only super tasty and filling, but it also delivers a boost of protein that makes it a go-to after-workout meal.

Friday
You made it! Time for Friyay Low Carb Pepperoni, Sausage & Mushroom Pizza, a good bottle of wine, or that fancy new seltzer, and re-watching Parks and Recreation (after you pretend to look for a new show for 10 minutes 😏).
Article tags:
0 comments