Keto Friendly Meatball Sub
Posted on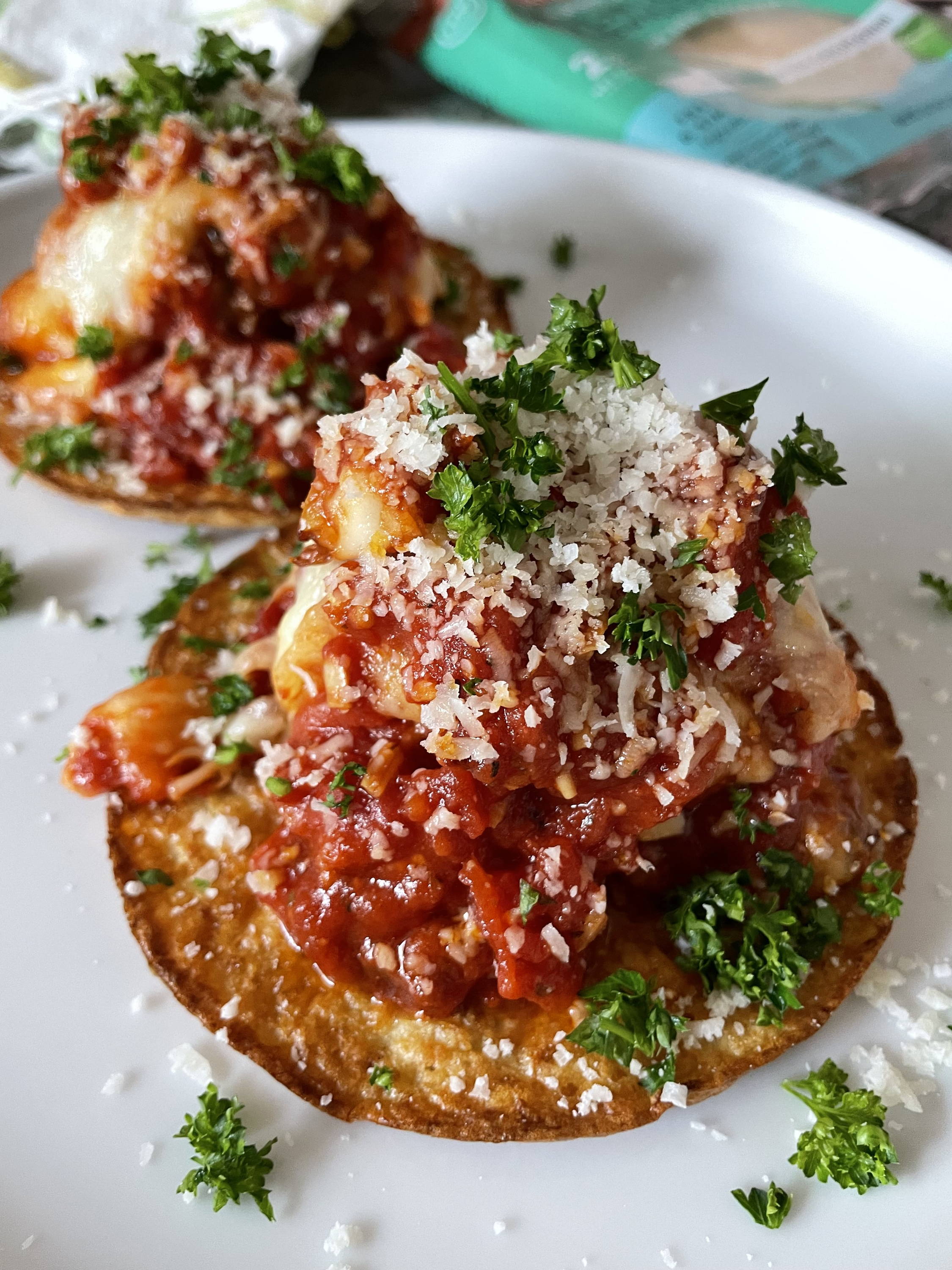 Keto Friendly Meatball Sub
Do you love meatball subs, but not the carbs and gluten that you typically find in them? This keto friendly meatball sub recipe is made using our very own meatball recipe that's packed with veggies and flavor without all the carbs or gluten. Our favorite thing to do is prep a big batch of meatballs over the weekend to make quick and delicious meals like this throughout the week! This recipe is for one sandwich, so if you want more, just multiply the ingredients by however many sandwiches you'll be making.
INGREDIENTS:
• 2 Sandwich Rounds – For flavor suggestions, see notes below
• 2 meatballs (check out our Easy Low Carb Meatballs recipe here)
• ½ cup marinara sauce
• ¼ cup shredded mozzarella
• 1 tbsp chopped fresh parsley
• 1 tbsp parmesan (we love freshly grated parmigiano reggiano)
INSTRUCTIONS:
1. Preheat the oven to 350º
2. Place the two meatballs in a small baking dish. Cover with sauce and sprinkle the shredded mozzarella.
3. Bake for 20 minutes total. After 10 minutes, place the Sandwich Rounds directly on the oven rack and let them crisp up while the meatballs continue to simmer in the sauce. When the cheese is melted, sauce is starting to bubble, and the Sandwich Rounds are a toasty golden brown, they're all ready to take out of the oven and assemble into a sandwich.
4. Remove the Sandwich Rounds from the oven and place on a plate. Remove the meatballs from the oven and place one meatball on each Sandwich Round. Top with the shredded parmesan or parmigiano reggiano and fresh parsley. Enjoy!
NOTES:
You can use any flavor Sandwich Rounds or even a Pizza Crust for this recipe! We recommend Italian Sandwich Rounds if you're in the mood for a classic, Original or Broccoli Sandwich Rounds if you want milder flavor, Jalapeño Sandwich Rounds for a spicy kick, or even Italian Pizza Crusts for a meatball wrap!
Macros:
545 calories
10g net carbs
43g protein
Article tags:
0 comments