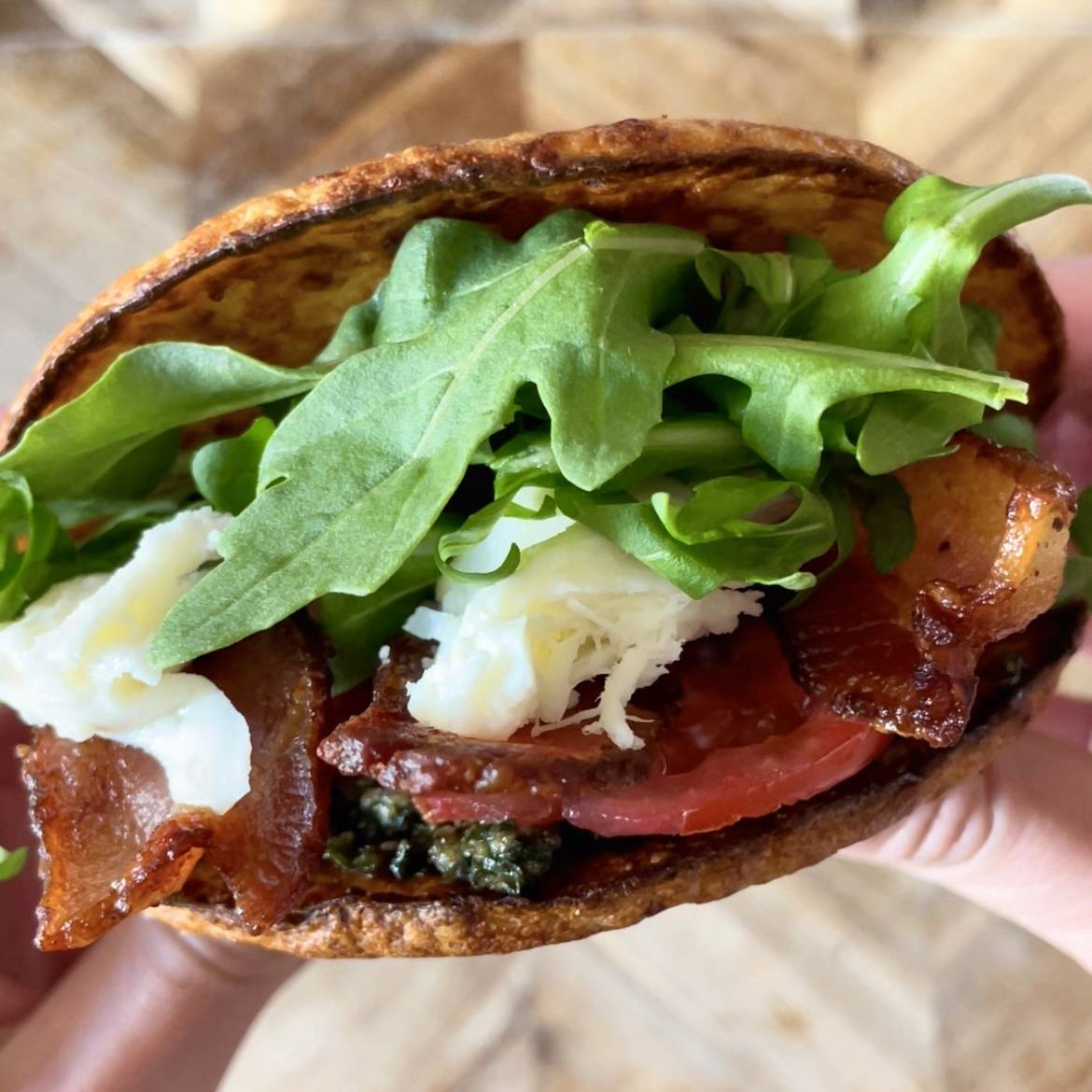 At first we weren't sure whether to call this a Pesto BLT or a Bacon Caprese, but whatever you call it, it'll definitely be delicious. Crispy bacon paired with a chunky pesto walnut spread, fresh tomatoes, and creamy mozzarella makes for a fresh, flavorful sandwich that you'll never want to end.
INGREDIENTS:
• 2 Sandwich Rounds, toasted (any flavor works!)
• Pesto walnut spread (recipe below)
• 1-2 pieces of crispy bacon
• 1 oz fresh mozzarella, torn
• 1 small tomato, sliced
• Fresh arugula
PREPARATION:
1. Take your toasted Sandwich Rounds and set side by side. On one of them, add the pesto, tomatoes, bacon, cheese, and arugula. Top with the remaining Sandwich Round. Enjoy!
For the walnut pesto spread:
Ingredients:
• 1 cup fresh basil
• ⅓ cup walnuts
• ¼ cup freshly grated parmigiano reggiano
• 3 tablespoons olive oil, added gradually
• Flaky salt to taste
Preparation:
1. In a food processor, add the basil and walnuts. Purée until the ingredients are finely minced.
2. Gradually add olive oil, pulsing the food processor in between additions.
3. Add the cheese and pulse a few times to mix in.
Macros:
320 calories
7g net carbs
21g protein
Article tags:
0 comments