Low Carb Philly Cheesesteak Recipe
Posted on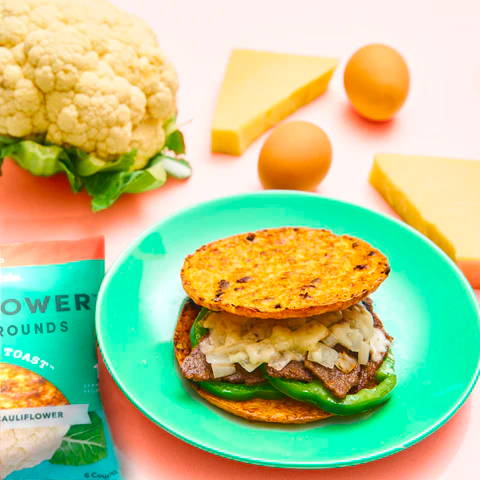 Philly Cheesesteak Recipe
This cheesesteak's nutrition profile makes it more like a steak salad than steak sandwich! We hope you enjoy this easy to make Low Carb Philly Cheesesteak recipe!
INGREDIENTS (Makes 6 servings)
3 medium onions, thinly sliced
2 sweet green bell peppers
1 tbsp extra-virgin olive oil
1 tsp granulated garlic
1/2 tsp black pepper
1 tsp salt
2 lbs sirloin steak, thinly sliced
6 slices (1 oz each) part-skim mozzarella
6 slices (1 oz each) provolone
12 Outer Aisle Sandwich Rounds, Italian flavored (2 packs)


PREPARATION
Sauté onions and peppers in oil until caramelized, about 12 minutes. Add garlic, salt, and black pepper. Transfer mixture to bowl and set aside.

In the same skillet, sauté sliced steak until brown. Add onion and pepper mix.

Place cheese slices on meat and veggie mixture, and cover until cheese is melted.

Spoon cheese steak, onions, and peppers onto Italian flavored Sandwich Rounds, stack up, and serve.
Serve and enjoy!
MACROS (per serving - 6 total):
Calories: 630
Protein: 65g
Carbs: 10g
Net Carbs: 6g
Total Fat: 34g
Article tags:
20 comments