Keto Friendly Grilled Cheese
Posted on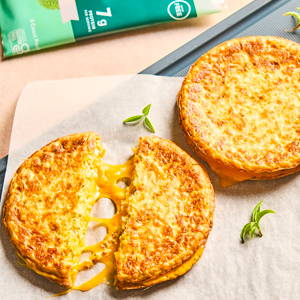 Keto Friendly Grilled Cheese
Looking for a quick and easy meal? A grilled cheese is as simple as it gets, but this low carb, gluten free recipe brings a new level of flavor with some extra seasoning and crispiness!
INGREDIENTS:
• 2 Broccoli Sandwich Rounds (or your favorite flavor!)
• 1 slice sharp cheddar cheese
• 1 slice pepper jack cheese
• Pinch of red pepper flakes
• Pinch of black pepper
• Pinch of dried oregano
• Pinch of dried basil
PREPARATION:
1. Heat both Sandwich Rounds on a skillet over medium high heat, flipping over once
2. Add the slices of cheese to one Sandwich Round and top with herbs & spices. Top with the remaining Sandwich Round. Cook for 3-5 minutes, flipping over once or twice, or until cheese is melted. Enjoy!
Macros:
265 calories
1g net carb
19g protein
Article tags:
0 comments