Spring Veggie Quiche
Posted on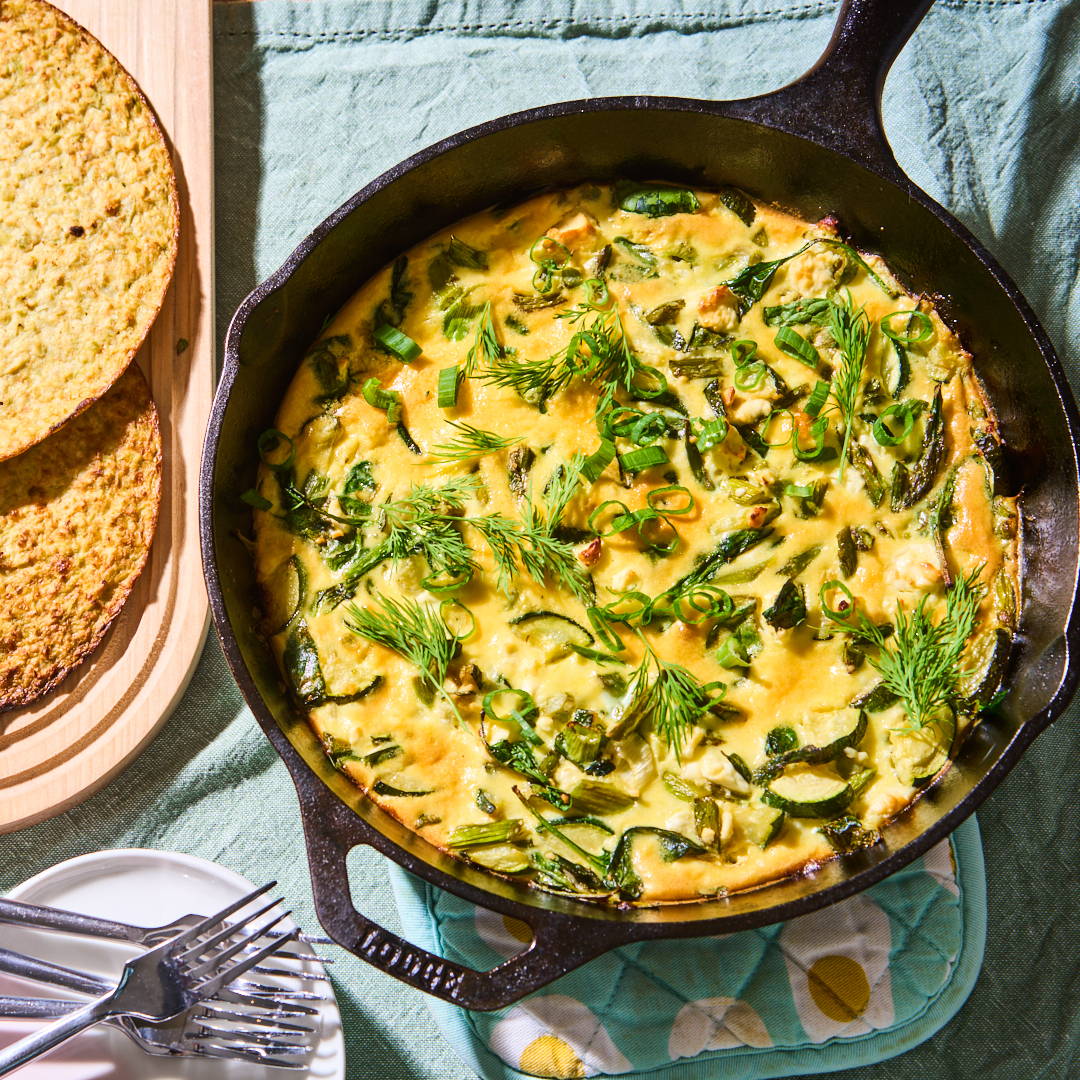 Keto Spring Veggie Quiche
Celebrate spring with this veggie packed quiche, made with fresh produce that's in season right now. Filled with nutrient-rich veggies like zucchini, spinach, and asparagus, this quiche is not only delicious but is also keto friendly and gluten free. This recipe is easily customizable and the veggies that are used can be adjusted based on what's in season throughout the year!
While this recipe is vegetarian, feel free to add some ground sausage or chopped bacon for extra protein. If you prefer to make 6 mini quiches, you can use a pack of Sandwich Rounds instead of a Pizza Crust and just reduce the baking time to about 25 minutes, or until the eggs are set.
Makes 1 large quiche or 6 mini quiches
INGREDIENTS:
• 1 Italian Pizza Crust or Broccoli Pizza Crust
• 6 eggs
• 1/2 cup heavy cream
• 1 tablespoon olive oil
• 1 small zucchini, diced
• 1 cup baby spinach
• 1/2 cup asparagus, trimmed and chopped
• 2 green onions, thinly sliced
• Salt and pepper to taste
• 1/2 cup crumbled feta cheese
• Optional: small bunches of dill for garnish
PREPARATION:
1. Preheat your oven to 375°F.
2. In a mixing bowl, whisk together the eggs and heavy cream until well combined.
3. Place the Pizza Crust at the bottom of a skillet or quiche dish. Pre-cook in the oven for 10 minutes.
4. In the meantime & in a separate skillet, heat the olive oil over medium heat. Add the zucchini, spinach, asparagus, and green onions. Season with salt and pepper to taste and sauté until the veggies are tender, about 5-7 minutes.
5. Add the sautéed veggies and crumbled feta cheese to the egg mixture and stir to combine.
6. Pour the egg and veggie mixture into the quiche dish over the Pizza Crust.
7. Bake for 35-45 minutes, or until the eggs are set.
8. Remove the quiche from the oven and let it cool for a few minutes before slicing.
9. Top with some more thinly sliced green onions and a couple of small bunches of dill for garnish.
10. Serve and enjoy your delicious and healthy spring veggie quiche!
Nutritional info
Per serving:
220 calories
18g fat
3.4g carbs
2.6g net carbs
10g protein
Per quiche:
1328 calories
108g fat
20g carbs
15g net carbs
61g protein
Article tags:
0 comments