The New Look Outer Aisle Debuts at Expo West
Posted on
Outer Aisle was thrilled to make their debut appearance at the 39th Annual Natural Products Expo West, March 5–9, 2019, in Anaheim, CA. The Natural Products Expo West, a four-day trade show dedicated to educating people about all natural supplements and products, is the world's largest natural and organic products event.
Naturally (pun intended), we were delighted to be there! "It was our first appearance at Expo West," reported Jeanne David, CEO and Founder of Outer Aisle, "and it proved to be a very full show. It never stopped the whole time. We went from appointments to meetings, to conferences."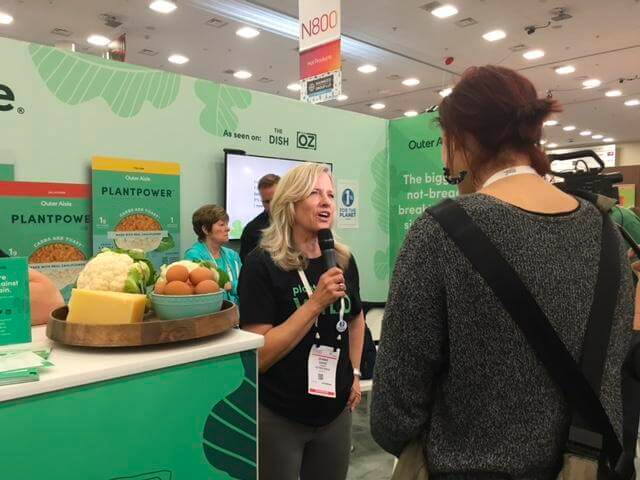 The huge exhibitor hall at the Anaheim Convention Center was bustling with over 3,000 exhibitors and more than 6,300 products, all clamoring to be seen and heard. But even before the show's doors opened, Outer Aisle received the United Natural Foods, Incorporated (UNFI) Supplier Award for our impressive growth over the past year. UNFI is a distributor of natural and organic foods, specialty foods, and related products in the United States and Canada. Outer Aisle was one of two companies to receive the award.
"It was a wonderful way to start off the show," Jeanne said.
UNFI Supplier Award Recognizes Phenomenal Growth
The UNFI Supplier Award recognized Outer Aisle's 919% growth in 2018 through existing distribution channels, as represented by our Pizza Crusts and Sandwich Rounds flying off the shelves in grocery stores—despite the fact we haven't yet reached national distribution. (But stay tuned—we'll be in Whole Foods across the country later in 2019.)
The velocity at which Outer Aisle expanded had little to do with the number of retail stores that carried our products. "Over the last year, we didn't increase new retail locations," Jeanne said. "We chose to start out making sure we could feed the current demand, instead of rapidly adding new retail locations."
And it worked: we were able to increase sales while remaining in our current facility.
Coming to a Store Near You
The year 2019 promises to bring even greater growth. "We're starting to build out into a new 37,000-square-foot facility slated for June 1, 2019. Once we roll out into Whole Foods in May, every distribution center in the country will be open to us, so you can expect to see Outer Aisle Pizza Crusts and Sandwich Rounds in many more stores."
If you've been unable to find Outer Aisle at your local grocery store, starting in May 2019, you can make a customer request to carry our Plantpower™ Pizza Crusts and Plantpower™ Sandwich Rounds. We'll have the capacity to distribute nationwide. That's good news for everyone living the low-carb lifestyle.
New Flavors: Jalapeno and Italian Herb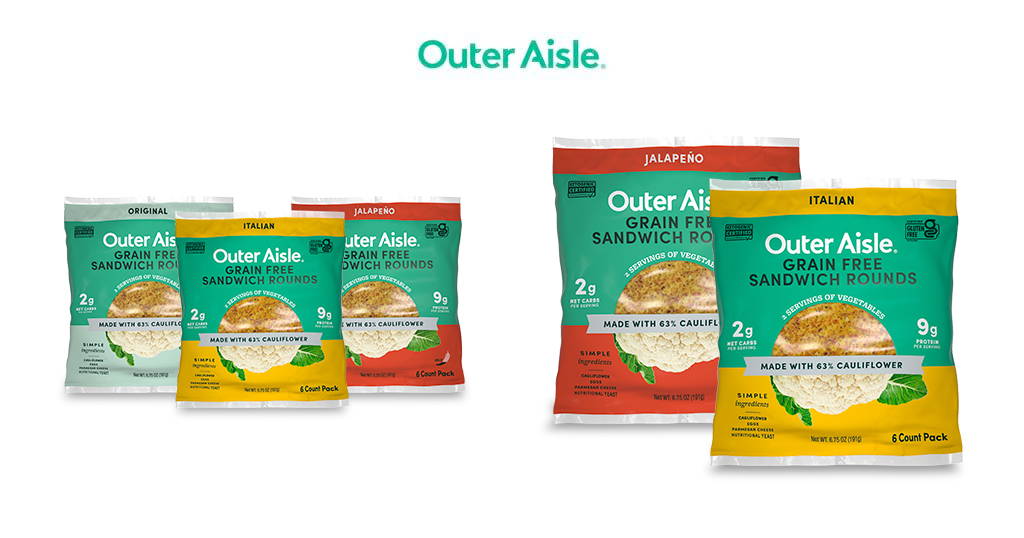 And more good news: At Expo West, Outer Aisle unveiled new branding and packaging, featuring our new label: PlantpowerTM. With this comes the two new flavor products that are adding variety to both Crusts and Rounds: Jalapeno and Italian Herb.
Flavor matters, which is why we put traditional pizza crust herbs—fresh garlic, basil, and oregano—into our Cauliflower Sandwich Rounds. Our Sandwich Rounds now come in Original, Italian, and Jalapeno. And we added a Jalapeno crust to our Pizza Crust line.
Our new flavors greatly add to the versatility of our products, giving people both a sandwich bread-like alternative and pizza crust with kick and flavor.
Like your grilled cheese sandwich with some heat? Try making it with our Jalapeno Sandwich Rounds. Or maybe you want that tuna wrap or ham sandwich to pack in more flavor for each bite, or you want a chicken fajita pizza. Jalapeno Pizza Crusts will do the trick.
"We got great reviews at the show for our new flavors," Jeanne reported. "My husband and I are originally from New Orleans, where people love their food spicy," she said.
The Media Weighs In
The new flavor additions also garnered favorable attention from the media. Here's what the online press is saying:
Food Forward
There's no question about it: Outer Aisle has arrived. And we will continue to take up the mantle as one of the lowest carbohydrate, lowest calorie, highest protein options available on the market.
"We are 'food forward' in our approach," Jeanne said. "We aren't about restricting people's diets. We're about filling all those empty calories with flavor and nutritionally dense, delectable food that's worth celebrating."
Find your fresh Plantpower Pizza Crusts and Sandwich Rounds on the "outer aisle" at your local grocery store (never in the frozen section), and soon at Whole Foods and other large outlets. Start serving food that's worth celebrating: healthy, low carb, low glycemic, low calorie, and non-gluten favorites everyone can—and will—enjoy.
Article tags:
0 comments