Low Carb and Gluten Free Holiday Charcuterie Board
Posted on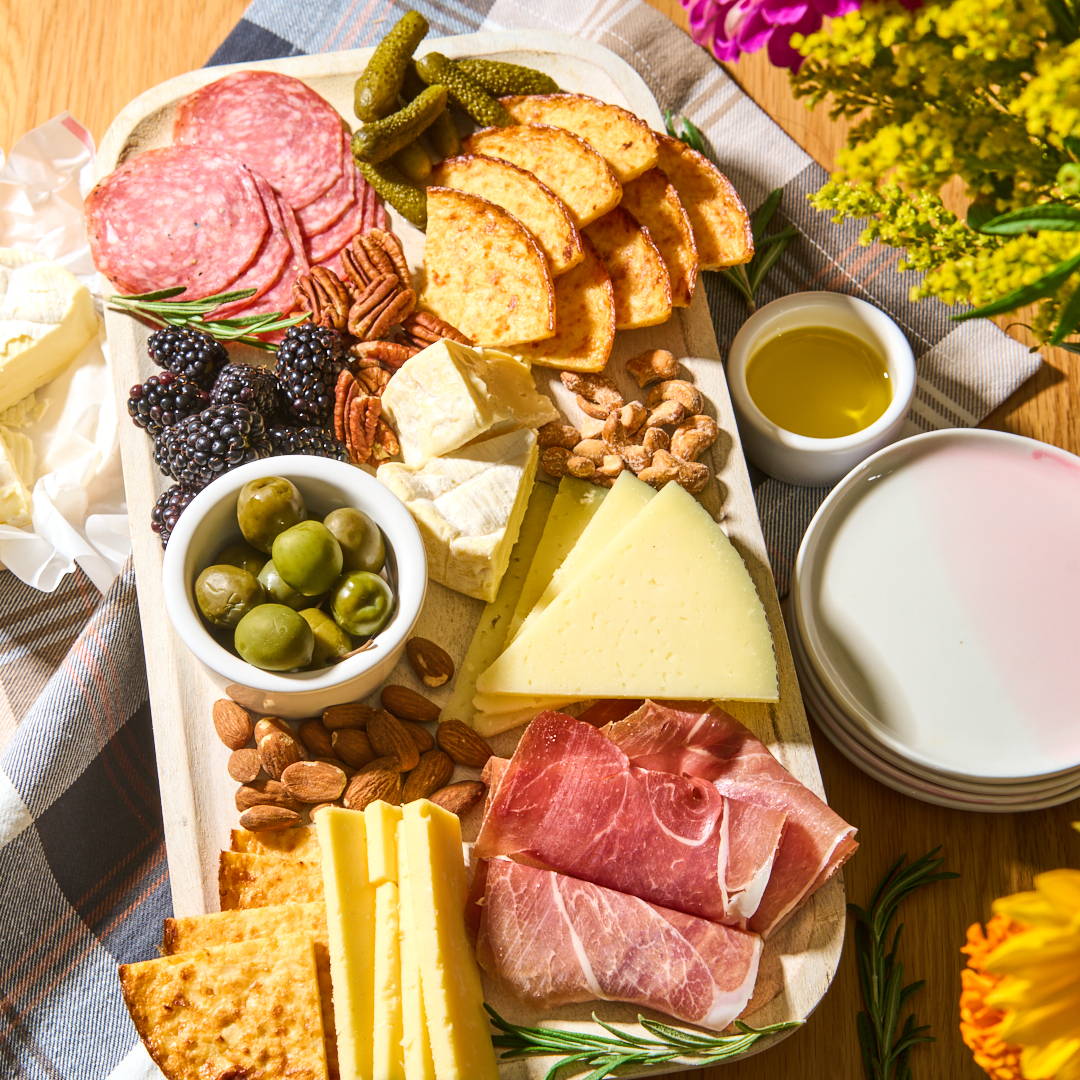 Low Carb & Gluten Free Holiday Charcuterie Board
A hearty charcuterie is perfect for any gathering. Whether you're looking for a fun & easy grazing board as an appetizer or hors d'oeuvre for a holiday party, this article will have you covered. Grab a wooden board, pick a few favorites from each section & you'll be all set!
Bread Alternatives:
Your favorite flavors of Sandwich Rounds - use 2 or 3 kinds for a fun variety! Cut them into triangles and bake or air fry for 5-7 minutes at 350º to crisp them up.
Meats:
• Calabrese salami
• Truffle salami
• Prosciutto
• Ham
• Turkey
• Meat sticks
• Chorizo
• Mortadella
• Capocollo
• Pepperoni
Cheeses:
You'll want a mix of firm, semi-firm, and soft cheeses.
• Sharp white cheddar
• Brie
• Goat
• Blue
• Manchego
• Gruyere
• Havarti
• Sliced mozzarella
• Gorgonzola
Nuts:
• Almonds
• Pistachios
• Pecans
• Cashews
• Pumpkin seeds
Fruits & Vegetables:
• Red grapes
• Blueberries
• Blackberries
• Strawberries
• Pomegranate seeds
• No sugar added dried cranberries
• Cherry tomatoes
• Baby carrots
• Celery sticks (cut into halves or thirds)
• Red bell pepper slices
Salty Extras:
• Pickles
• Marinated green olives
• Cornichons
• Pepperoncini
• Marinated artichokes
• Sweet & spicy pickled jalapeños
• Pickled red onions
• Sliced boiled eggs
Dips:
• Red pepper hummus
• Pesto
• Honey (skip this one if you're cutting carbs)
• Garlic aioli
• Honey mustard
• Dijon mustard
Jams (low sugar if you're cutting carbs):
• Blueberry
• Blackberry
• Strawberry
• Orange
• Raspberry
Fresh Herb Garnishes:
• Rosemary
• Oregano
• Sage
• Thyme
Article tags:
0 comments