NEW PRODUCTS! Outer Aisle Pizza Crusts and Sandwich Rounds NOW AVAILABLE in Jalapeño and Italian!
Posted on
People love the taste of our products. The most common word that pops up in emails we get from satisfied customers is "delicious." That's thanks to the pure, clean ingredients in Outer Aisle pizza crusts and sandwich rounds:
Fresh cauliflower
Whole, cage-free eggs
Parmesan cheese
Pure nutritional yeast
You won't get any "off" taste from preservatives or grains. Unlike other cauliflower crusts and bread alternatives, we don't use them. Our products are 63 percent fresh cauliflower and have absolutely no filler flours, preservatives, or artificial ingredients, which is why they're located in the refrigerated section, the "outer aisles."
And now, we've pumped our flavor up a notch! We've launched a new jalapeño flavor that makes our crusts and rounds even more delicious, and we've rolled out our classic Italian flavor for our Sandwich Rounds.
Jalapeño Sandwich Rounds and Pizza Crusts
As New Orleans natives, Outer Aisle founders Jeanne and Dan David share a love of spicy food. When they decided to bring some of the Big Easy's heat to their not-bread crusts and rounds, the jalapeño flavor was born. Jalapeño peppers now add heat and zing to both our Plantpower™ Sandwich Rounds and Plantpower™ Pizza Crusts.
Now you can wrap your favorite raw veggies in a zesty sandwich round. Try avocado, cucumber, sprouts, grated carrots, and add a little hummus for a light, refreshing sandwich, one that now comes not only with great flavor but a little extra heat; add chicken or shrimp for a hardier version. Or create a Chicken Fajita Pizza by adding grilled veggies and chicken as toppings on a Jalapeño Pizza Crust. Yum!
Chicken Fajita Pizza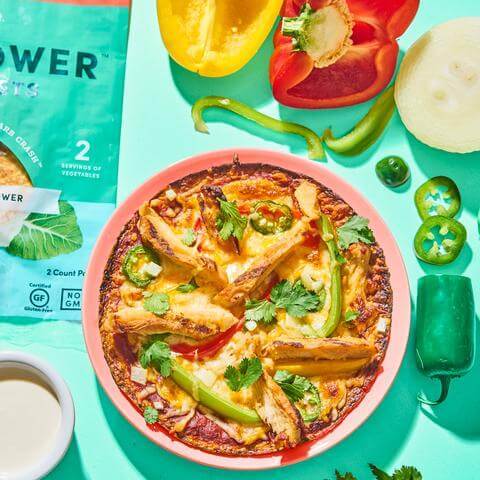 INGREDIENTS
1 Tbs olive oil
1 chicken breast, cut into strips
1 garlic clove, pressed
1 Tbs chili powder
1/2 tsp salt
1 cup yellow onion,
1 cup green, red, and yellow bell peppers
1/4 cup pizza sauce
2 cups shredded Monterey Jack cheese
PREPARATION
Preheat oven to 425º.
In a large skillet, heat oil on medium high and add garlic and chicken strips. Stir fry for 5 minutes.
Add chili powder and salt; stir.
Pour in onion and peppers, and stir fry until veggies are tender crisp, about 5 min.
Spread pizza sauce onto Jalapeño Pizza Crust.
Spoon mixture from skillet onto crust, arranging so peppers and chicken are evenly spread out. Then sprinkle on the shredded cheese.
Bake at 425º for 10-15 minutes on a pizza stone, vented tray, or mesh wire rack. Pizza crust should be brown on the bottom and the cheese melted.
Serve sprinkled with fresh cilantro.
Italian Sandwich Rounds (and Pizza Crusts, Too)
Our Pizza Crusts have always featured fresh garlic, basil, and herbs. It's a natural, right? But now we've brought Italian flavor to our Sandwich Rounds, too.
Enjoy the ultimate in comfort food by layering that ham and cheese onto an Italian-flavored round and grilling it panini-style. The combination of the melted cheese with the fresh garlic and herbs in one crunchy bite might just be what you were craving but considered forbidden. Now you can have it—guilt-free.
Or entertain a crowd when you whip up this variation on the classic Philly Cheese Steak. Betcha thought you'd never have one of these again!
Philly Cheese Steak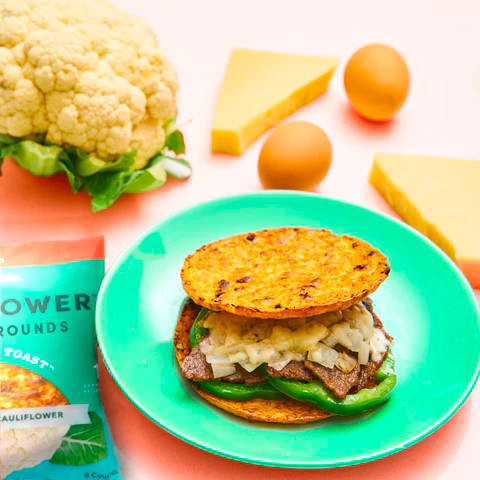 INGREDIENTS

(Makes 6 servings)
3 medium onions, sliced round
2 sweet green bell peppers
1 tbsp extra-virgin olive oil
1 tsp granulated garlic
1/2 tsp black pepper
1 tsp salt
2 lbs sirloin steak, sliced round
6 slices(1 oz each) part-skim Mozzarella
6 slices(1 oz each) Provolone 2 packs
12 Outer Aisle Sandwich Rounds, Italian flavored (2 packs)
PREPARATION
Sauté onions and peppers in oil until caramelized, about 12 minutes. Add garlic, salt, and black pepper. Transfer mixture to bowl and set aside.

In the same skillet, sauté sliced steak until brown. Add onion and pepper mix.

Place cheese slices on meat and veggie mixture, and cover until cheese is melted.

Spoon cheese steak, onions, and peppers onto Italian flavored Sandwich Rounds, stack up, and serve.
There are so many ways to enjoy our Pizza Crusts and Sandwich Rounds—and our new flavors make them even more versatile. We're low carb, low calorie, keto-friendly, and bursting with flavor.
What will you create?
Article tags:
11 comments