Easy Low Carb Enchiladas Verdes
Posted on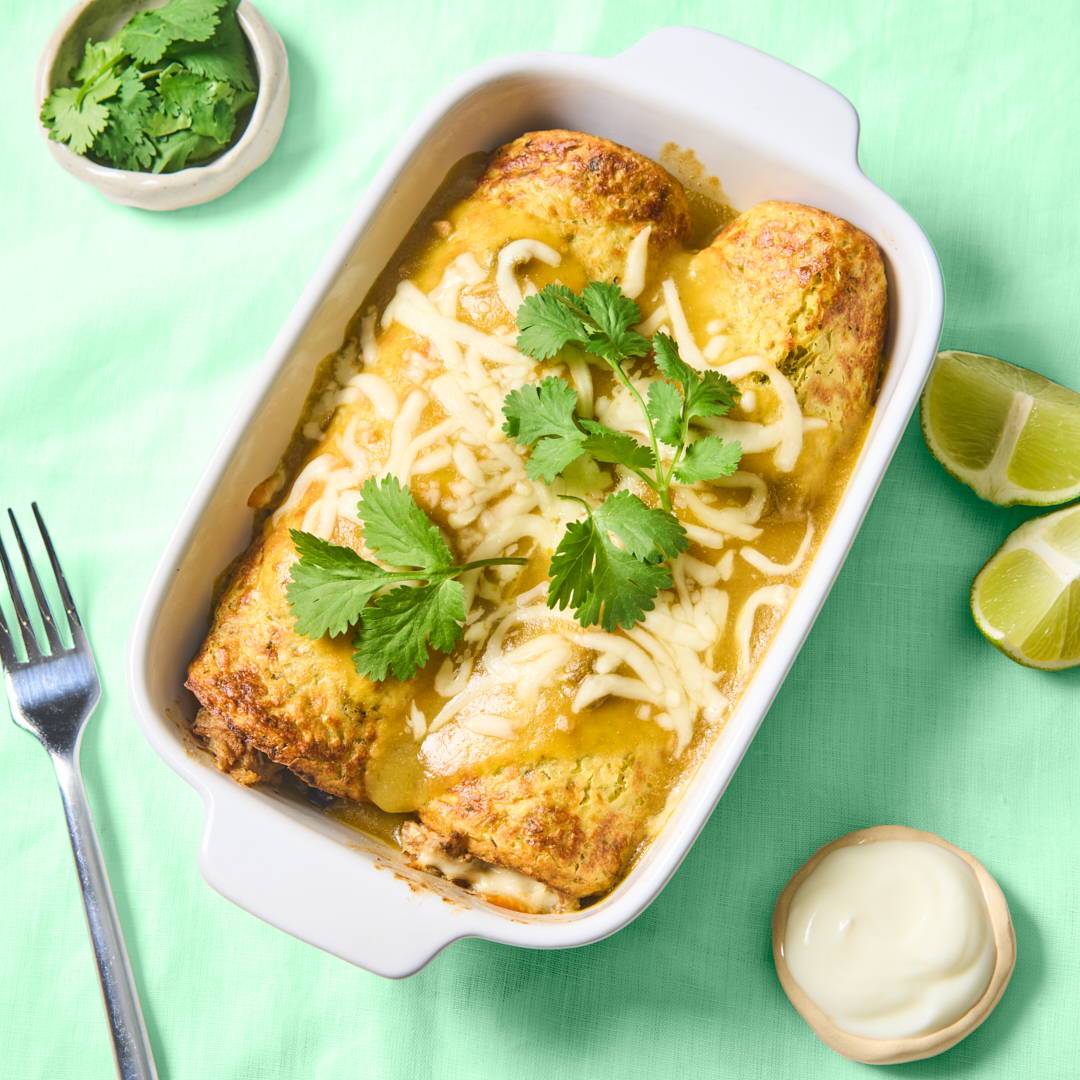 Easy Low Carb Enchiladas Verdes
What's better than a low carb, high protein, & veggie packed meal? One that's also super delicious & easy to make! If you're looking to spice things up but have never made enchiladas before, this recipe is so simple to assemble and perfect for first timers — you can even prep the mixture the night before to save some time before dinner.
Makes around 8 enchiladas.
INGREDIENTS:
• 4 packs of Broccoli Pizza Crusts & Wraps
• 2 cups of shredded rotisserie chicken
• 1 15 oz can black beans, drained & rinsed (omit if you're eating keto)
• 2 16 oz jars of salsa verde, divided
• 2 cups shredded Mexican blend cheese, divided
• ½ tsp cumin
• ½ tsp black pepper
• Limes
• Fresh cilantro
INSTRUCTIONS:
1. Preheat the oven to 400º F.
2. Take a large casserole dish (8x10 or 9x13) and cover the bottom with 1 cup of the salsa
3. In a large mixing bowl, add the shredded rotisserie chicken, shredded Mexican blend cheese, black beans (if using), cumin, black pepper, & 1 cup of salsa verde. Mix until well combined & set aside.
4. Heat up each Broccoli Pizza Crust on a skillet on medium high heat for about 30 seconds on each side, just until each one is warmed through
5. Hold the Broccoli Pizza Crust in one hand and place roughly ½ cup of the mixture inside, spreading it out so it covers the majority of the Crust lengthwise
6. Carefully fold each end in and place seam down on your baking dish
7. Repeat with the remaining Pizza Crusts and mixture
8. Top with the remaining salsa and shredded cheese
9. Cover with foil and bake for 20 minutes. Remove foil, and bake for another 10 minutes
10. Top with cilantro, lime, and any other toppings of your choice. Enjoy!
Macros:
315 calories
4g net carbs
25g protein
Article tags:
0 comments