Dr. Oz's Food Find of the Day: Outer Aisle Cauliflower Sandwich Rounds
Posted on
In The Dish on Oz that aired February 20, 2019, Outer Aisle Cauliflower Sandwich Rounds were featured as "Food Find of the Day" for their versatility in providing a low-carb bread alternative to all kinds of bread-based foods. These not-bread veggie-packed slices bring back mini pizzas, tacos, toast, and grilled cheese sandwiches—without the guilt!
Low-carb bread: A dream come true?
Daughter Daphne knows Dr. Oz's favorite snack is avocado toast, a treat that also provides a healthy portion of vegetables (although avocado is really a fruit!). But the carb-bomb known as bread makes it too high in carbs for a frequent snack option.
Now Dr. Oz can enjoy his favorite snack and go low carb with Outer Aisle's Sandwich Rounds, what they called "an entirely new reality in bread." In the February show, Dr. Oz munched on his favorite toast – the low-carb version, of course – while Daphne indulged in a heart-healthy, gluten-free grilled cheese sandwich, both on our Rounds. They loved every bite.
Cut the Carb Cravings
Carbs are the hardest thing to cut from your diet, explains Dr. Oz. That's because we crave the foods that are high in carbs. We end up dreaming of foods we can't have if we want to stay slim and healthy, and that craving can obliterate the best of intentions to please the carb police. We get caught in the loop of endlessly craving and eating foods that are not good for us—or our waistline.
Outer Aisle Sandwich Rounds help you swap out the carbs and finally get your cravings under control.
Healthy Ingredients, Chewy Texture
Sandwich Rounds have only the freshest and purest ingredients, while still keeping the chewiness of bread (and even adding flavor):
Fresh cauliflower
Cage-free whole eggs
Vegetarian parmesan cheese
Pure nutritional yeast
Plus, they are naturally gluten-free, containing no soy, nuts, or artificial ingredients. Dr. Oz and Daphne loved the chewy texture and hearty flavor, commenting that the taste of the rounds become part of the meal (unlike bland bread or flavorless, texture-less bread alternatives).
Get Out of the Low-Carb Rut
Instead of relying on the same boring foods and skipping your favorites, pop a Sandwich Round (or two—only 50 calories and two grams of carb each) in the toaster, throw it on the griddle, or sizzle it in the skillet for a quick and convenient snack or meal. Enjoy as a tortilla with your favorite filling for taco night. Make a turkey sandwich or a mini deep dish pizza.
We were proud to see Dr. Oz enjoy our Sandwich Rounds, but we weren't surprised. Pizza without the blood sugar crash, grilled cheese to die for, even peanut butter and jelly sandwiches for the kids that actually count for two of their day's veggie servings. These versatile, not-bread wonders are hard not to drool over.
Dr. Oz loves them so much, he sent home every member of the audience with a package of Outer Aisle Cauliflower Sandwich Rounds to taste for themselves!
Recipe:
Mini Deep Dish Pizzas Made with Outer Aisle Cauliflower Sandwich Rounds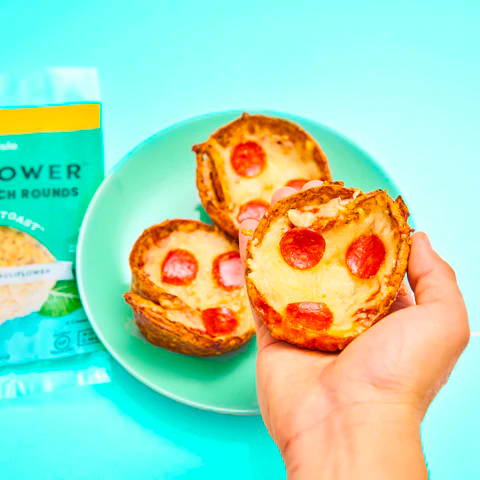 Expected prep time: 5-10 minutes
Expected cooking time: 7-10 minutes

INGREDIENTS:
1 pack Outer Aisle Sandwich Rounds (6 slices)
6 tablespoons parmesan cheese
6 teaspoons Italian seasoning
12 tablespoons tomato sauce
6 tablespoons mozzarella cheese
18 mini pepperoni
INSTRUCTIONS:
Step 1:
Preheat the oven to 375º
Prepare your 6 unit baking pan (see video)
Add one cauliflower sandwich round to the base of each space
Step 2:
Add 1 tablespoon of parmesan cheese to each sandwich round
Add 1 tablespoon of Italian seasoning to each sandwich round
Add 2 tablespoons of tomato sauce to each sandwich round
Stir contents
Step 3:
Add 1 tablespoon of mozzarella cheese to each sandwich round
Place 3 mini pepperoni to each sandwich round
Cover with tin foil
Step 4:
Bake at 375º for 10 minutes
Step 5:
Remove from oven, let sit for 3-5 minutes
Serve and Enjoy!
MACROS (PER SERVING - 6 TOTAL)
Calories: 176
Protein: 13g
Net Carbs: 5g
Total Fat: 11g
Article tags:
2 comments