Plants Gone Wild™️
Gluten free, grain free, ketogenic certified bread alternatives made with fresh vegetables.
Featured In
Fresh & Simple Ingredients
Free shipping on orders $75+
10,000+ 5-Star Reviews
Absolutely Amazing!
"This is a new 'must have' for me on my keto journey! I absolutely LOVE the jalapeno and Italian sandwich rounds. I WILL be ordering again! Thank you for making such a wonderful product!"
So glad I ordered a subscription (need to order sooner!)
"tried these first through Whole Foods and couldn't find enough of them fast enough and ordered directly here and so in love! I throw them in a sandwich and onto the panini maker and I can't tell I'm eating healthy but I can also tell I'm eating healthy at the same time."
Delicious and Keto friendly!!
"Love these sandwich rounds! They are a great pair for burgers on the grill. I also love making breakfast sandwiches again using these. Who said low carb life can't taste great? Outer Aisle is awesome!!"
Amazing
"These are the BEST tasting cauliflower crusts that I have ever had! You can use them for anything! Taco pizza, regular pizza, sandwiches I mean the sky is the limit! I can only order from here as nothing comes close to the taste! Thankful for a product like you have!"
Italian Pizza crusts - so good!
"I really enjoyed eating them and being able to eat pizza that I didn't feel guilty about! it's great for low carb diets or just times where you want to eat more vegetables!"
All hail the power of cauliflower. The wholesome carbslayer.™
Outer Aisle was born out of my family's personal journey to remove sugar and processed carbs from our diet and eat more vegetables. We're on a mission to make keto-friendly, low-carb, grain-free, and gluten-free products that are nutritionally dense and delicious and harness the power of plants to feed the world. Let's go beyond the grain together.
Read our story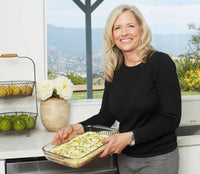 Available at